Aeromotive Fuels Two Racers To The Finish Line at King Of The Hammers 2022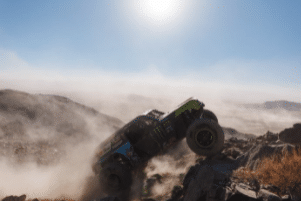 Caption: Vaughn Gittin Jr. attacking some of the obstacles that competitors face in King Of The Hammers.
King Of The Hammers is the toughest single-day off-road race on the planet. Competitors must conquer seemingly impassable rocky trails and take on rough high-speed desert sections with the same vehicle. Drivers are known to flip their rigs during the race, winch themselves over boulders bigger than most cars, and scale mountainsides made of nothing but loose dirt and jagged rocks.
We want to congratulate two of our amazing Aeromotive-sponsored drivers who finished in the top ten in the King Of The Hammers Nitto Race of Kings earlier this month! Erik Miller, who runs our Universal Brushless In-Tank A1000 Fuel Pump (Part No. 18368), finished in fifth place, and Vaughn Gittin Jr., who runs our classic A1000 Fuel Pump (Part No. 11101), placed sixth.
The vehicles that race in the King Of The Hammers endure unfathomable stress as drivers push them hard for the entirety of the 165-mile course to finish within the 14-hour time limit. Many vehicles never see the finish line with mechanical failures common. Our fuel systems are engineered to handle this exact kind of abuse without missing a beat, and our sponsored drivers' spectacular showing at KOH 2022 is proof of that fact. Congratulations guys! #Aeromotivefueled